Bamboo Planters
I build planters, big planters that I have developed specifically for growing bamboo in. The shape and design are simple. The rectangular dimensions lend themself to decks, patio's, driveway's and pretty much anywhere a privacy hedge is needed. The tapered design allows for ease of maintenance year after year. It allows for the release of a potentially congested root mass of bamboo out of the planter. Other planter designs make it near impossible to remove the bamboo for maintenance (especially the metal ones). This maintenance is mandatory for bamboo. If you cannot get the bamboo out of the planter, it will become root bound eventually and wither away without maintenance. These planter's prevent this problem of not being able to root prune the bamboo. For more information on this maintenance please refer to
Bamboo Maintenance
. These are products with long term sustainability in mind.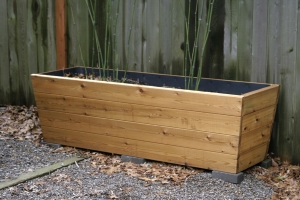 Features
all boxes are lined inside with 60 mil HDPE bamboo barrier material
wood coated with a low-voc protective outdoor oil
interior floor consists of wood, steel mesh, landscape cloth
The "feet" are gray concrete brick's
screwed together, rather than nailed to keep it's structural integrity over long period's of time
The tapered design along with the interior lining, prevents any wood rot from occurring.
Sizing
The "standard" planter size is 5 foot in length 2 feet tall by 2 feet wide. However in some situations a 4 foot long or a 6 foot long can work better. The 4 foot is especially good for shipping, since it can fit on a palette. The 6 foot is nice to fill big spaces, without having to get two planters. The actual real dimensions of the standard (5x2x2) is 60"long x24"wide x22"tall with 2" thick brick feet, equally 24" total height, when installed. With all that said all kinds of differnet sizes of custom planters have been constructed.
Materials
Most planters are built with Cedar. Cedar is light. A cedar planter by itself is about 80-100 pounds.
Availabilty of reclaimed wood is limited.
As far as lifespan and durability goes, there is not much difference between the different types of wood. This is due to the fact that the interior is lined, stopping any water from getting the wood wet on the inside. On the outside the bricks hold the planter off the ground stopping water from wicking up from the ground. Pressure treated wood is used on the inside, so that doe's not degrade either. The only time the wood get's wet is in the worst parts of the winter from rain splashing off the ground on the base of the planters, which doesn't affect it due to the stain.
Coatings
Current choices are -Natural, Dark Brown, and Black
However any color can be chosen for a extra charge, some clients have purchased uncoated and have the planter color matched to there house or fence. The natural is more of a amber toned clear, as for the Ebony it is as dark as you can get. With that said it really is important NOT to have a black planter located in a sunny exposed spot in the afternoon sun. Unless you plan on irrigating it lots, it would absorb lots of sun and get hot and dry out quickly.
The planters are coated with an outdoor wood oil product called Penofin Verde (very low voc content).
link to Penofin Verde products
Pricing
| | | |
| --- | --- | --- |
| Wood | Size | Price |
| cedar wood, oil coated | 2'x2'x5' | $395 |
| reclaimed cedar, oil coated | 2'x2'x5' | $395 |
Delivery and Installation
Delivery is usually a flat $75 fee. Delivery's can be made to anywhere in the greater Portland metro area. -this includes transport, moving, and leveling the planters into there positions. You can also arrange to pick up the planter or planter's in person if you wish.
Interested?
Preorder or request more information by contacting me.
Portland Planter Retailers
Bob Hyland Garden Designs 1114 SE Clay St. Portland, OR 97214
"THE" Bamboo Garden 18900 NW Collins Rd. North Plains, OR 97133